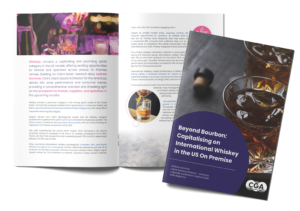 Whiskey remains a prominent category in the thriving spirits market of the United States. Domestically produced varieties hold a special place in consumers' hearts, yet there is growing demand for the International whiskey category too, with nearly 15% of consumers favouring this category.   
Insights derived from CGA's BeverageTrak reveals that the Whiskey category experienced a significant 16% uplift in Q4 of 2022 compared to the previous quarter. The Winter season in particular demonstrated robust growth, with Q1 of 2023 exhibiting an impressive 11% increase compared to Q3 of 2022.  
This uplift outperformed the overall spirits market, which witnessed a 9% velocity increment during Q1 compared to Q4, and a 7% increase compared to Q3 of 2022. Florida and New York showed the most substantial growth (31% and 26% respectively) between Q3 2022 and Q1 2023. 
International whiskey's robust performance is attributable to increased sales within eating outlets, a preferred occasion for Scotch and Japanese whiskey drinkers. Japanese whiskey, in particular, is prominently selected during celebratory meals (59%), in food-centred business meetings (28%), and over meals involving children (18%). 
Consumption patterns within the rest of the international whiskey category demonstrate relatively more homogeneity. Around 64% of Canadian, Irish, and Scotch whiskey drinkers choose to enjoy their drams during meals with friends, and nearly 50% during meals with family. 
CGA's report indicate that the International Whiskey category presents a multitude of prospects for suppliers, operators, and brands to capitalise on.
CGA's Client Solutions Director, Andrew Hummel, said: "By incorporating current insights into their strategic planning, stakeholders can effectively harness the category's potential and achieve substantial gains in the dynamic American On Premise market. Adapting swiftly and implementing optimal strategies will be crucial in seizing the opportunities that lie ahead in the upcoming months."
To read more, download the report here.  
CGA's OPUS research provides a rich resource of data and insights that helps manufacturers, suppliers and operators answer category, channel, occasion, and brand questions, and optimise sales and marketing strategies across the US' On Premise industry. 
To learn more about CGA's capabilities across the On Premise, email Matthew Crompton at Matthew.crompton@nielseniq.com    
Originally published in Global Drinks Intel Magazine