If you would like to read this article in French please click here.
Cliquez ici pour accéder à l'article en français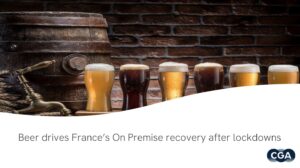 It shows that beer made up around 59% of total drinks volumes in France in the 12 months to June 2021—an increase of two percentage points on the previous year. Sales in May and June were nearly 11% higher than the same two months in 2019, compared to drops in sales for other drinks categories including soft drinks and spirits. CGA's consumer data also highlights the importance of beer to France's On Premise, with nearly half (48%) of consumers drinking it there.
The research also emphasises the importance of craft brands to the beer market. The craft category took 4.5% of all beer sales in the 12 months to June 2021, having increased its share by roughly half from the year to June 2019. Nearly half (46%) of all beer drinkers now consume craft options in the On Premise.
Other exclusive CGA insights into the craft beer market include:
Craft is particularly thriving in the night-time market. It takes 6.1% of total beer sales in the bar de nuits segment and 5.4% in nightclubs—double the 2.7% share in the bar de jours
Paris significantly over-indexes for craft beer drinkers, with craft taking a 6.8% share of all beer sales there in the 12 months to June 2021—up by nearly three percentage points year-on-year.
Craft drinkers are more likely to try new brands than mainstream beer drinkers—highlighting the opportunities for craft suppliers to encourage trial and the challenge to build loyalty.
CGA's research provides many more insights into France's On Premise as it recovers from the disruption of COVID-19, including detailed analysis of drinks category sales and consumer behaviour that can help suppliers and operators identify opportunities for growth.
Graeme Loudon, CGA managing director EMEA and APAC, said: "After months of lockdowns, many consumers in France are seeking out the On Premise beer experiences they have been missing while at home. They have been particularly missing out on draught beer, which only the On Premise can deliver, and consumer thirst for this has driven both footfall to trade and beer market volumes up versus 2019, a great early signal for the on trade."
For the first time, we are also now able to see the impact of craft beer in the On Premise. The category continues to gain share across key market segments and regions, stealing from the more established mainstream brands. This is driven by a promiscuous consumer who is eager to try new brands. Understanding why almost half of beer drinkers chose craft is crucial for beer brands across the category to protect and grow their share."
For more information about CGA's exclusive consumer and volumetric research, and how it can help operators and suppliers to optimise sales and marketing strategies in the reopened market, please contact Graeme Loudon at graeme.loudon@cgastrategy.com.