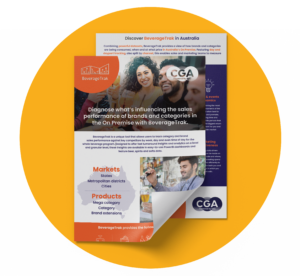 The recently introduced Pulse+ Sales Report, powered by BeverageTrak, is designed to offer fast turnaround insights and analytics on a local and granular level. Providing category and brand sales performance, featuring beer, spirits, and softs data, the tool allows businesses to quickly access sales insights to gain a deeper understanding of local sales dynamics. 
The new report, with quarterly data to week ending 26 August, reveals a significant decline in velocity (16%) vs the same period in 2022. This decline can be attributed to a reduction in traffic (-14%) and average check value (-2%).  
Exploring category performance, beer (-10%) and spirits (-13%) experience similar trends, with both seeing sales dip compared to 2022. The Wine category sees a bigger drop in sales (-25%) compared to beer and spirits, evidenced by the category losing out to spirits in eating-led venues over recent weeks.  
These figures align with recent CGA consumer research, with almost 2 in 5 consumers stating they have been going out less in August and September due to cost-of-living increases (75%), and price increases when eating and drinking out (56%). 
The data suggests the biggest challenge the On Premise is facing is driving footfall, with declines driven primarily by traffic. BeverageTrak allows brands and suppliers to better understand the challenges, helps investigate what impact is it having for brands, identifies which sub-channels are most affected and how trends are seen across regions in the market.  
As there remains a core segment of consumers still prioritising visitation to the On Premise, identifying which categories are in decline will allow brands to profile these consumers and category drinkers and those who need to be targeted with activation and marketing to help engagement into the channel. 
Having a clear view of sales velocity and ticket count trends, combined with insights into consumer behaviour, allows suppliers to create an effective strategy to ensure success within the Australian On Premise. 
James Phillips, Client Solutions Director said "As the cost of living affects consumers behaviour in the On Premise, it's becoming increasingly important to have a full view of the market. CGA's BeverageTrak data provides a granular view of sales velocity, traffic and check value, paired with our consumer insights gives clients a magnified view of the current state of play, identifying gaps and enabling brands, suppliers, and operators to adapt their strategies to fully appeal to all audience types."    
The Pulse+ Reports provide a bigger picture overview of the Australian On Premise exploring consumer insights, and ALL NEW sales metrics as part of the monthly reporting. 
The Pulse+ report uses BeverageTrak data, which provides a view of how brands and categories are being consumed, when and at what price in Australia's On Premise. To find out more about BeverageTrak's capabilities and how they can help your On Premise strategy, get in touch with James Phillips, Client Solutions Director – ANZ at james.phillips@nielseniq.com or download more information here.
To find out more about the Australian On Premise Pulse+ Reports, click here, or download a snapshot of the latest Pulse+ Report here.