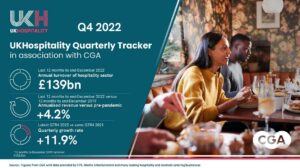 The UKHospitality Quarterly Tracker, in association with CGA by NielsenIQ, shows revenue was up 4.2% in 2022 compared to 2019, but down 13% in real terms when inflation is accounted for.
Cost pressures, alongside ongoing labour shortages and COVID-19 debt, has left many hospitality businesses in a perilous position. The latest Q1 Hospitality Members Survey, ran jointly by industry, showed that almost a third (32%) of businesses were at risk of failure in the next year.
UKHospitality is urging the Chancellor to address the root causes of inflation in the Budget. It is calling for intervention in the energy market, Apprenticeship Levy reform and a new business rates multiplier to provide an immediate boost to the sector and prevent business failures, allowing those that survive to invest, employ and grow.
UKHospitality Chief Executive Kate Nicholls said: "These figures show the challenging position the sector is in. The demand from the public is quite clearly there, with revenue exceeding pre-COVID-19 levels, but there is no way venues can take advantage of this demand as they drown amidst price rise after price rise.
"Without action, we can see just how stark the year ahead could be with a third of businesses at risk of failure. Venues are simply unable to pass prices onto the consumer at the same rate they are experiencing their own costs rise.
"If the Chancellor wants to stem the bleeding in hospitality and stop those prices rises, which unfortunately contribute to inflation, he can take action in the Budget.
"We know one of the Government's key priorities is cutting inflation and growing the economy, which we support. Hospitality is a prime sector to achieve this, with a track record of delivering rapid growth.
"Intervening in the energy market to stop unscrupulous behaviour by energy suppliers, reforming the Apprenticeship Levy and tackling disproportionate business rates would signal his commitment to the everyday economy and its ability to lift the nation out of its economic slump.
"People up and down the country want to support their local pubs, restaurants, coffee shops and hotels, to name just a few. If the Chancellor allows those venues to take advantage of that support, we can turn record sales into real terms growth."
The UKHospitality Quarterly Tracker is compiled by CGA by NielsenIQ and based on its Trading Index and OPM data on food and drink sales across the on-trade. It is combined with hotel data supplied by STR and information provided by many leading hospitality and contract-catering businesses.