If you would like to read this article in Italian please click here
Se vuoi leggere questo articolo in italiano clicca qui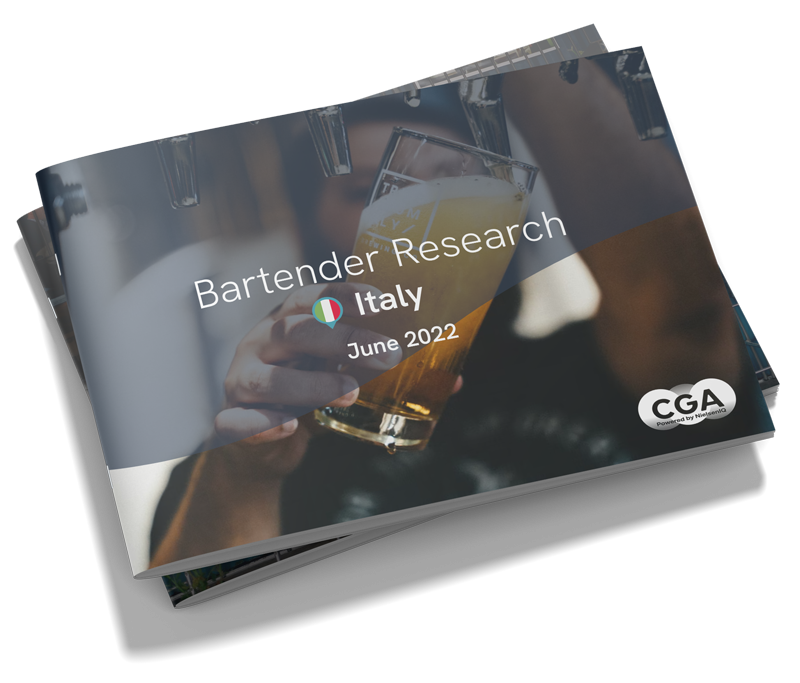 CGA by NielsenIQ's research reveals that Italians are more likely to be influenced by bartender recommendations (31%) than consumers in other key markets, Mexico (29%), South Africa (29%), China (25%) and Thailand (24%).  CGA by NielsenIQ's Italian Bartender Report 2022, in partnership with AIBES delves into what makes a successful advocacy programme in the eyes of bartenders.  
The research reveals that 98% of bartenders surveyed have completed supplier-led training, but that some have been left unfulfilled by the support on offer. With a large proportion of Italian bartenders rating their relationship with suppliers as average (69%), there is opportunity for suppliers to enhance and tailor training programmes to meet the current needs of bartenders in order to build stronger connections. 
Training to alleviate pressures 
Bartenders are passionate about the industry and place pride in creating great experiences, which means that they are open and willing to accept training by a drinks supplier or brand (76%).  However, staff shortages pose a risk to delivering the top-quality service they strive for, as well as their desire to exceed guests' satisfaction levels (67%).  Work-life balance (20%) is also a key challenge, which means that any training or in-outlet brand activity needs to consider the mounting pressures that bartenders are under and offer solutions to ease service whilst delivering quality.  
Other key challenges highlighted by bartenders included the opportunities to progress in their role (31%) and creating a quality team (27%).  Offering opportunities for bartenders to upskill in managing and leading effective teams could therefore help to alleviate pressures, build lifelong careers in hospitality, and in turn create stronger relationships with the brand that helped them achieve this.   
The benefits of investing in a successful training programme 
62% of bartenders surveyed stated that they have a set selection of brands that they will recommend to consumers, and 2 in 5 tend to recommend brands that they have received training from.  65% also said that they are actively reviewing their product range over the next 12 months, demonstrating that investing in well-structured training programmes can gain listings for brands as well as influence consumer decision making. 
Bartenders also believe that training courses which place heavy emphasis on quality of serve alongside wider skills can have further benefits for suppliers as well as their own venues.  Stating that education around the 'perfect serve' of categories like Beer would make customers satisfied with their overall experience (53%), would help repeat visitation to the venue (51%) and repeat purchase (33%) of the brand.  
In-person training important for building long lasting relationships 
Given the social nature of hospitality, it's unsurprising that bartenders seek out in-person training (47%), or a combination including online training (42%).  The importance of in person contact is reinforced by the fact that garnering a successful relationship with bartenders requires suppliers to demonstrate an understanding of their venue (82%), and to have a regular presence. 
Alberto Sciacqua, Client Solutions Director – Italy, said: "Drinks suppliers who can provide accessible brand training is the first step in the right direction of fostering those important relationships for lifelong advocacy. With tremendous emphasis on Italy's bartenders being a crucial element to the wider hospitality market, there needs to be dedicated supplier support which in turn will benefit brands and venues in the future. Our research puts the spotlight on these actionable insights and where CGA can provide value for suppliers looking to build on their success in the market." 
CGA's research provides actionable insights into brand advocacy opportunities across the Italian On Premise and global markets to help suppliers understand how to successfully engage bartenders. To learn more about CGA's global bartender research, contact Graeme Loudon at graeme.loudon@cgastrategy.com 
The Italy Bartender Report 2022 study surveyed 45 bartenders/managers who currently work in the Italian On Premise during 18/04/2022 to 18/06/2022.   
The full report is now available to download here.