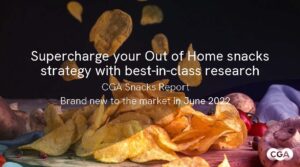 The upcoming 'CGA Snacks Report' reveals that the out-of-home snacking market was worth around £520m pre-covid, however this shrank by 36% in 2021. Lockdowns, table-only service, digital ordering and staffing shortages have all taken their toll during COVID-19, but with impulse purchases returning, now is the time to get an expert understanding of consumer behaviour and capitalise on opportunities to grow sales and share.
The report will combine CGA's consumer and business research to highlight key trends and show how to overcome barriers to sales, revealing:
The potential of the premium snacking market, as upmarket snacks start to outsell traditional pub favourites and consumers become more demanding
The impact of the surge in app ordering and the chance to drive sales via digital platforms
The rising importance of provenance, with more than a quarter (29%) of consumers now expecting locally sourced products in venues, and 45% of consumers expect high quality products.
Ways to adjust snacking strategies to the fast-growing competitive socialising sector and demand for memorable experiences.
Features of CGA's exclusive report will include:
Deep dives into snacking categories to understand trends by type, flavour, quality, packaging and more
Consumer research highlighting paths to purchase and willingness to pay, plus segmentation revealing crucial differences in behaviour
Brand metrics for benchmarking performance and map leading players in the market
Breakdowns of snacking occasions to show how preferences vary by visit type, channel and dayparts.
CGA client director James Ashurst says: "The snacking market has had a tough couple of years, but as consumers return to pre-COVID-19 habits and pent-up demand is released, there are some great chances to turbocharge sales. Targeted approaches and data-driven decision-making will be vital, and this research can help suppliers and manufacturers to optimise the positioning of both established and new snack brands."
The upcoming 'CGA Snacks Report' is based on a survey of 2,000 nationally representative out-of-home eating and drinking consumers, and bolstered by CGA's best-in-class volumetric research. It is accompanied by a comprehensive data pack, and there are opportunities to bolt on extra bespoke analysis to help suppliers communicate sales stories to operator partners.
For more information about the research, click here to download
To learn more about CGA's Snacking Report and its benefits, contact CGA client director James Ashurst at james.ashurst@cgastrategy.com.