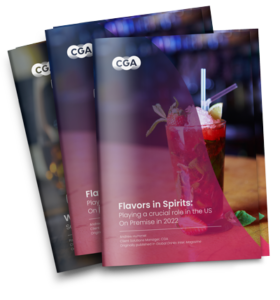 In CGA's new 'Flavor in Spirits' report, Andrew Hummel, client solutions manager – Americas, explores some of the latest flavor-related sales and consumer trends in both spirits and cocktails and highlights which flavors operators should look at to grow sales and where brands can find market potential for new product development and RTDs.
Market Overview
Data from CGA's On Premise Measurement (OPM) research in the US shows that spirits currently hold nearly half (44.3%) of the value of all alcoholic beverages sold within the country's On Premise sector.
Whiskey sales generated nearly $11 billion, making it the largest spirits category by value in the American On Premise channel.
However flavored expressions account for less than 20% of all Whiskey sales, highlighting the latent potential within this segment.
Flavored Vodkas account for over a fifth of all Vodka sold in US bars and restaurants, while Flavored Rum accounted for nearly a third (29.9%) of all Rum sales last year.
CGA's OPM service is the only fully projected, extensively validated, measure of beverage alcohol performance in the American On Premise. Used to track share and trends of all leading beverage suppliers, OPM is the most robust view of sales performance for bars and restaurants ever produced in the US.
Harnessing the mixing power of flavored spirits
Cocktails are a key serve type for most flavored spirits, so understanding how different flavors perform when mixed with other beverages should be a key concern for operators and drinks brands looking to tap into the popularity of aromatized spirits.
CGA's On Premise User Survey (OPUS) highlights the top trending cocktail flavors within American bars and restaurants, and how they have changed since the pre-pandemic period. OPUS is a nationally representative survey of On Premise users, designed to provide insights on where and how to reach target consumers. The research provides size of the prize opportunities for drinks categories and brands by occasions and channel.
Similar to Vodka drinkers' preferences, "berry" was the most popular cocktail flavor among US consumers in 2019, followed by "fruity and sweet" aromas in second position, and "citrus" in third.
"Spicy" flavors saw the biggest uplift in popularity (+2.6%) over the past two years. Incorporating spicy vodka into a Bloody Mary offering could be an appealing option for many and also help operators cater to earlier daypart demand.
Andrew Hummel, client solutions manager – Americas, said: "In the US, spirits such as Whiskey, Vodka, and Rum are critical components of a successful On Premise beverage program. Brands and operators can tap into American consumers' favorite flavors in spirits and mixed drinks to maximize the potential of these flourishing categories. Solutions such as our On Premise Cocktail Report can also help suppliers in this space, as it provides a comprehensive overview of the dynamics of the cocktail category along with valuable consumer insights to help identify the opportunities within this category."
Click here to download the full 'Flavors in Spirits' report.
Alongside their suite of research services that includes OPUS and OPM, CGA's expert team can also provide bespoke analysis to pinpoint opportunities for individual brands and operators. To learn more about CGA's capabilities across the US On Premise, visit www.cgastrategy.com and email Andrew Hummel at andrew.hummel@cgastrategy.com
Originally published in GDI magazine