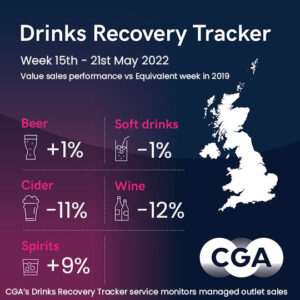 After four successive weeks of growth, average sales by value in Britain's managed pubs, bars and restaurants in the seven days to Saturday (21 May) were just 0.2% behind the comparative week.
Trading again ran in line with the temperatures, with warm weather in the first half of the week pushing sales ahead of 2019 by 2% on Monday, 8% on Tuesday and 11% on Wednesday. With cooler and wetter weather setting in, sales were then flat on Thursday and down by 14% on Friday. This last drop continues a pattern of sluggish Friday trading in 2022—partly because remote working patterns are reducing after-work drinking occasions.
Despite the modest 2022-on-2019 growth in recent weeks, high inflation means the value of drinks sales is still well behind in real terms. However, sales should be boosted by the start of half-term holidays and the four-day weekend to celebrate the Queen's Platinum Jubilee from next Thursday (2 June)—especially if the sun shines.
"Drinks sales have hovered close to pre-COVID-19 levels throughout April and May, but meaningful growth is frustratingly elusive," says Jonathan Jones, CGA's managing director, UK and Ireland. "Mixed weather isn't helping, and the On Premise desperately needs sunshine if it is to take full advantage of the Jubilee weekend. The celebrations could help to kickstart the summer, though the cost-of-living crisis continues to cast a shadow over consumer spending."
Category-wise, spirits (up 9%) and beer (up 1%) were both in growth last week, but soft drinks (down 1%), cider (down 11%) and wine (down 12%) were in the red. A high point in the week came in Scotland on Wednesday, when Rangers' appearances in the Europa League Final sent beer sales soaring 123% above the same day in 2019.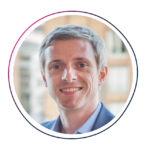 CGA's Drinks Recovery Tracker monitors managed outlet sales as the drinking-out market continues to recover, providing category, supplier and brand rate of sale performance versus pre-COVID-19 sales. Suppliers and operators that want to track the recovery of drinks sales, benchmark performance or identify changes in trends and consumer preferences should contact jonathan.jones@cgastrategy.com.